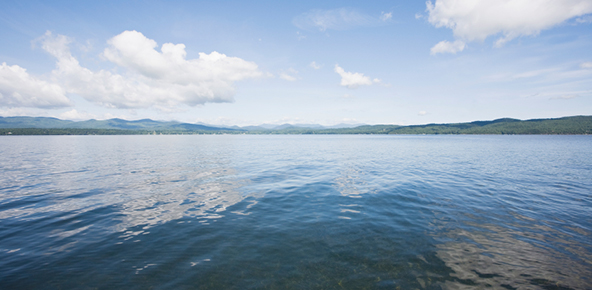 New England Clean Power Link
The New England Clean Power Link is a proposed 1,000 MW High Voltage direct current (HVdc) underwater and underground transmission cable that will bring clean, low-cost energy from the U.S.-Canadian border to Vermont and the New England marketplace. Once completed, the project will lower costs for consumers, reduce environmental emissions, create jobs, increase tax revenues, and diversify fuel supply in New England, all while respecting Vermontís natural beauty by burying the cable.
If approved after extensive federal, state and local environmental review, the project will run two six-inch-wide cables an estimated 150 miles, all in Vermont. Approximately 100 miles are proposed to be buried under Lake Champlain and the balance buried underground in existing rights-of-way. The line will end at a converter station to be built at a location in Ludlow, Vermont and connect into the VELCO transmission grid to serve Vermont and the broader New England market.
The $1.2 billion merchant line will be privately financed and will not use taxpayer dollars. The developers of the Clean Power Link are also developing the Champlain Hudson Power Express project.

Associated Press: Firm planning long buried power line agrees to lake funding
A company that wants to bury a power line from the Canadian border down Lake Champlain and then across the state to feed the New England power grid said it has reached an agreement with an environmental group to help fund lake protection projects.
The Boston Globe: Developer agrees to pay $284 million to help clean Lake Champlain
A project that would bring Canadian hydropower to New England by submerging a cable under Lake Champlain cleared a major hurdle when the developer struck a deal with an influential environmental advocacy group.
Rutland Herald: Agreement advances electric line
A developer has pledged to spend more than $280 million on a series of Lake Champlain cleanup efforts in exchange for running a power line under the lake.
Burlington Free Press: Green advocates back under-lake power cable
Developers of a $1.2 billion project to run a high-capacity power cable beneath Lake Champlain have reached an agreement with the Conservation Law Foundation promising commitments to water quality and renewable energy in Vermont. The project requires approval from the state's Public Service Board before construction can begin.
Draft Environmental Impact Statement Published in Federal Register
The completion and public release of the Draft Environmental Impact Statement for the New England Clean Power Link transmission project was officially confirmed on Friday, June 12, 2015 by publication of the Department of Energyís action in the
Federal Register
. The published notice establishes a 60-day period for public review of and comment regarding the document, the period ending on August 11
th
.
Department of Energy Issues Draft Environmental Impact Statement for the New England Clean Power Link
The United States Department of Energy has issued a Draft Environmental Impact Statement (DEIS) for the New England Clean Power Link electric transmission line. The DEIS assesses the Projectís potential environmental impacts under the National Environmental Policy Act.
Union Leader: Dave Solomon's Power Plays: Vermont hydro project 'leapfrogs' Northern Pass
The Department of Energy on Wednesday released the draft environmental impact statement for the New England Clean Power Link, recommending a presidential permit for the plan to bring hydroelectricity from Quebec into New England through Vermont.