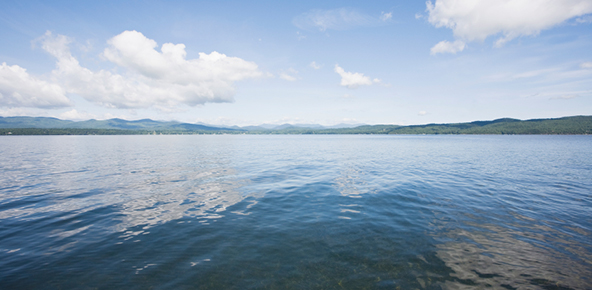 New England Clean Power Link
The New England Clean Power Link is a proposed 1,000 MW High Voltage direct current (HVdc) underwater and underground transmission cable that will bring clean, low-cost energy from the U.S.-Canadian border to Vermont and the New England marketplace. Once completed, the project will lower costs for consumers, reduce environmental emissions, create jobs, increase tax revenues, and diversify fuel supply in New England, all while respecting Vermontís natural beauty by burying the cable.
If approved after extensive federal, state and local environmental review, the project will run two six-inch-wide cables an estimated 150 miles, all in Vermont. Approximately 100 miles are proposed to be buried under Lake Champlain and the balance buried underground in existing rights-of-way. The line will end at a converter station to be built at a location in Ludlow, Vermont and connect into the VELCO transmission grid to serve Vermont and the broader New England market.
The $1.2 billion merchant line will be privately financed and will not use taxpayer dollars. The developers of the Clean Power Link are also developing the Champlain Hudson Power Express project.

US Army Corps Issues Public Notice of a Complete Application for the New England Clean Power Link
The notice deems the application complete and seeks public comment on the proposed under water and underground electric transmission project.
Associated Press: New line for Canadian power to NE wins support in Vermont
A plan to run a 1,000-megawatt power line down Lake Champlain and across Vermont to bring Canadian power to southern New England is getting key support in the Green Mountain State.
Vermont Business Magazine: Department of Public Service announces agreement with TDI-New England on 1,000 megawatt powerline
Commissioner Christopher Recchia and the Vermont Department of Public Service announced today it has reached agreement with TDI-New England in its application for a Certificate of Public Good for a 1,000 MW transmission line to be constructed under Lake Champlain and underground from Benson to Ludlow.
Conservation Law Foundation: Many benefits of transmission project
The recent settlement with TDI-NE demonstrates a good path forward in meeting our regionís future power and climate change needs while also promoting the general good of Vermont communities today.
Keene Sentinel: Vermont model a workable alternative to Northern Pass
Itís time for the out-of-state and out-of-country interests pushing the current Northern Pass proposal to bury the private transmission line along appropriately designated transportation corridors. A similar project in Vermont shows it can be done.
TDI-New England and the Conservation Law Foundation Reach Agreement on the New England Clean Power Link Project
TDI New England announced on June 15
th
, 2015 that it has completed an agreement with the Conservation Law Foundation (CLF) which includes enhanced environmental and public benefits that the New England Clean Power Link project will provide to Vermont. The agreement was filed with the PSB on June 12
th
, 2015 as part of the state 248 siting review process.